In natural bodies of water, aquatic plants are an important part of the ecosystem and adding some to your aquarium can bring a range of benefits to the inhabitants. Aside from boosting oxygen levels, they can allow your fish to practice natural behaviors.
Amazon frogbit is no exception. It can be a valuable addition to your aquarium.
It is a floating plant that's easy to care for as well as visually appealing. That being said, including any plant in your aquarium requires careful consideration.
Not all ecosystems are compatible every plant. You need to know what you're getting into in terms of purchase, planting, and general care and maintenance.
How much does Amazon frogbit cost? Where can you buy it? How do I look after them? Can I grow them myself at home?
In this article, we have the answers to all these questions and more. You're going to learn all you need to know about Amazon frogbit care. You'll also discover which types of aquatic life can be kept with this plant, and those that shouldn't be.
Quick Overview and Statistics
Before we delve into the details of this aquarium plant, let's cover the basics. This table is a brief overview of all the facts you should have on hand. You'll also get an idea of whether or not this plant will be appropriate for your aquarium setup.
Characteristic
Details
Common name(s):
Smooth frogbit, West Indian spongeplant, South American spongeplant
Scientific Name(s):
Limnobium laevigatum
Family:
Hydrocharitaceae
Origin:
South and Central America. Grows on the surface of ponds, canals, rivers, and lakes
Color Form:
Green
Maximum Size:
Height: up to 20 inches.
Width: from 0.5 to 3 inches
Growth Rate:
Aggressive
Care Level:
Easy
Water Conditions:
Freshwater, 64–80° F, KH 4–20, pH 6–7.5
Lighting:
Low to high
Minimum Tank Size:
Any
Supplements:
None required
Placement:
Floating
Propagation:
Division
Tank mates / Compatibility:
Great for fish who enjoy low-light. A poor choice for aquariums with plants that need light to survive. Avoid planting Amazon frogbit in tanks with snails, as snails can eat it.
It was originally native to Central and South America. In native habitats such as Puerto Rico, it prefers slow-moving bodies of freshwater, for instance, ponds, ditches, sluggish rivers, and swamps.
Still, this hardy perennial plant is capable of surviving in nearly any body of fresh water if left unchecked. Today, it has spread to natural bodies of water across the globe. It can be found in Japan, Indonesia, Australia, North America and several other countries.
One of the primary causes behind this worldwide dispersal is thought to be improper aquarium disposal. It's tough enough to live through being tossed down a drain or directly into a body of fresh water.
Although home aquarium owners may appreciate it's beauty, it's generally considered a pest to natural ecosystems. The rapid rate of reproduction means it can clog drains, congest waterways, and deprive other aquatic life of resources.
---
What Does Amazon Frogbit Look Like?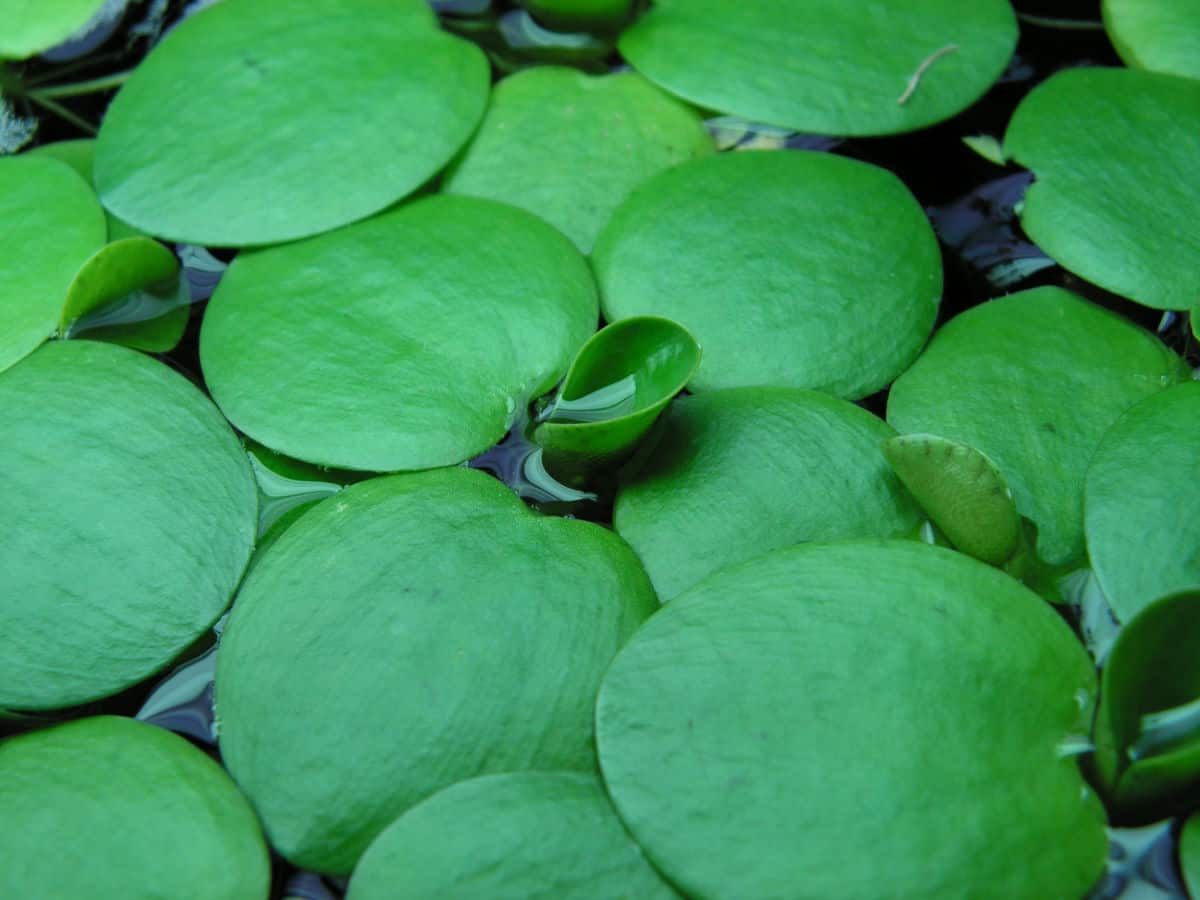 Amazon frogbit leaves are nearly perfectly round and a vibrant lime-green in color.
Smooth and unmarked, each leaf is buoyed on the water surface due to its bloated underside. The sponge-like attachment is more swollen in juvenile plants compared to adults.
The surface of the leaves can range from a half inch to three inches wide. Trailing roots can reach up to 20 inches in length, depending on the age of the plant. The roots themselves have fine trailing hairs.
Although it rarely happens in aquariums, it has the ability to flower. It can produce tiny white flowers that are less than an inch in diameter. If it goes to seed, they are less than one millimetre in length, and hairy.
The moniker "frogbit" refers to two other varieties, also in the Hydrocharitaceae family. This includes American and European frogbit. American frogbit have leaves that are heart-shaped, rather than rounded. They can be found in the southeastern United States.
European frogbit is found throughout northern Asia and regions of Europe. The leaves are smaller than those of the Amazon and American varieties.
At first, Amazon frogbit in natural environments can be mistaken for water hyacinth. Unlike water hyacinth though, the leaves are flatter. Flowers are also white and petite, rather than larger and lavender-colored.
---
Placement in a Tank
Since it floats at the water surface, it should be placed on the surface of your aquarium. If your aquarium includes snails, you should keep your Amazon frogbit toward the center of the tank. Otherwise, hungry snails will be attracted to the fleshy underside of the leaves.
Although they are aquatic, they won't enjoy getting soaked. If the tops of the leaves get splashed repeatedly, they can begin to rot.
If you have an area that sees a lot of activity in your tank, keep the Amazon frogbit away from it.
For example, if you tend to clean your substrate from the leftmost corner of your tank, keep that side plant-free.
Similarly, don't put it near to your filter, as the roots can get sucked in.
---
Benefits Amazon Frogbit Bring to Your Aquarium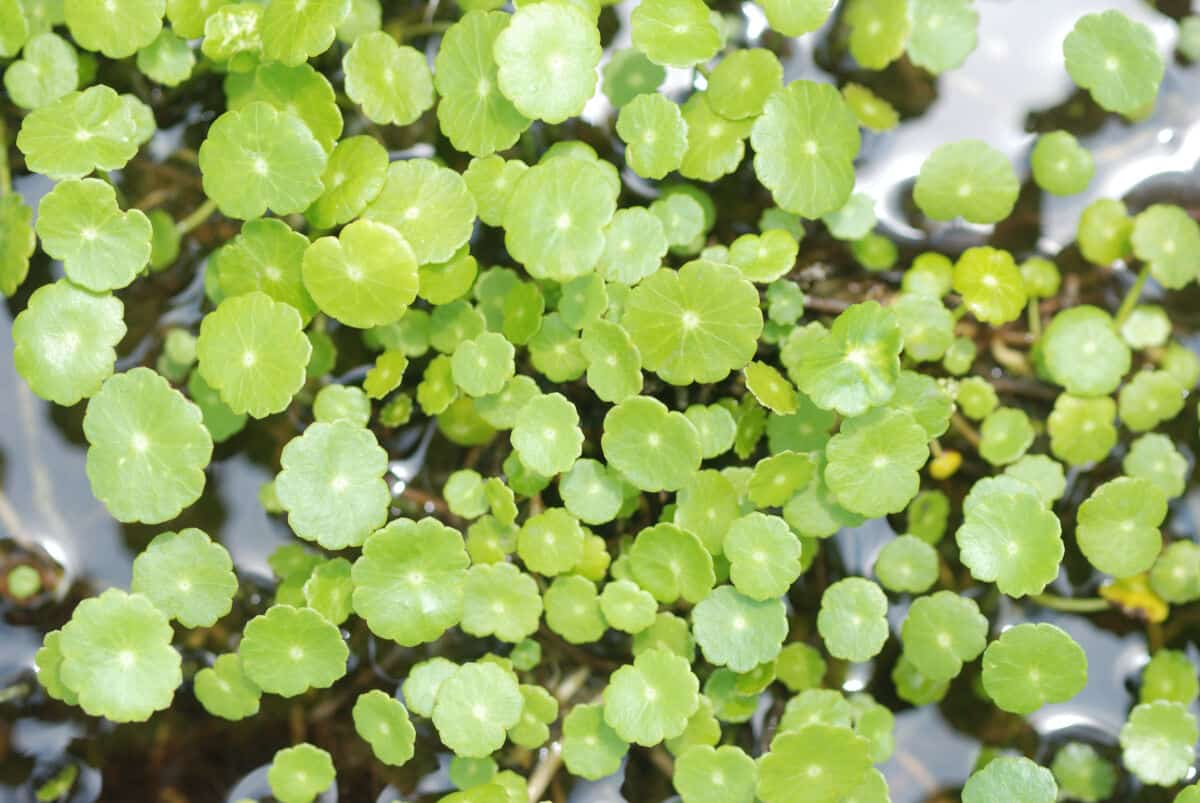 Aside from being pretty to look at, it has practical properties. If you have low-light plants in your tank, it's leaves can help block out light for optimal conditions.
The same goes for fish that do well in darker environments, such as the common clownfish.
As with almost any aquatic plant, it can work to keep your aquarium clean. The trailing roots consume excess nutrients floating around. In turn, this can reduce the risk of algae outbreaks and improve water chemistry by removing waste.
Certain aquarium residents can take advantage of these trailing roots too. Vulnerable fish fry, as well as small shrimp, can use them for shelter.
---
Tank Requirements and Preferred Conditions
Amazon frogbit is adaptable, meaning it can do well in most aquariums. It doesn't demand much in the way of special requirements.
With that said, here's the optimal tank conditions that you should strive to meet.
Minimum Tank Size Required
You can plant it in any size tank, from large aquariums in excess of 200 gallons to nano-tanks. Keep in mind that you should exercise caution if your tank is smaller, however.
Remember that Amazon frogbit grows quickly. You don't want it to overwhelm your tank and deplete other inhabitants of essential resources. You'll have to keep on top of pruning it more than aquarium owners with bigger tanks.
Water Type and Parameters
Amazon frogbit is a freshwater plant with flexibility. It has been discovered growing in ditches and swamps, so brackish water is acceptable. Slow-moving or still water is preferred, although it can and does grow in fast-moving rivers.
As long as your water pH is between 6 and 7.5, you should have nothing to worry about. Water hardness can be between four to 20 KH.
Temperature-wise, it will do fine anywhere between 64 and 80 degrees Fahrenheit.
Lighting Requirements
Amazon frogbit floats on your tank's surface, lighting won't be much of a concern. It does best under moderate to high lighting, although it can survive under low lighting.
There's no need to keep your lights on all the time. Whatever cycle you have set up for your current aquarium inhabitants should be bearable for this robust plant.
The only thing you should be careful of is heat. Take care not to place your lighting too close to the leaves, or you might burn the leaves.
Substrate Requirements
One of the pros of floating plants is eliminating concerns over buying the right planted tank substrate.
Trailing roots gather nutrients from the water itself rather than from your aquarium substrate. So whether you have gravel, sand, or marble, your Amazon frogbit won't complain.
---
Growth Rate
There is a reason it's been declared an invasive species in some countries.
It grows swiftly and vigorously.
It can easily take over a tank if you neglect to thin it out regularly.
---
How to Care for Amazon Frogbit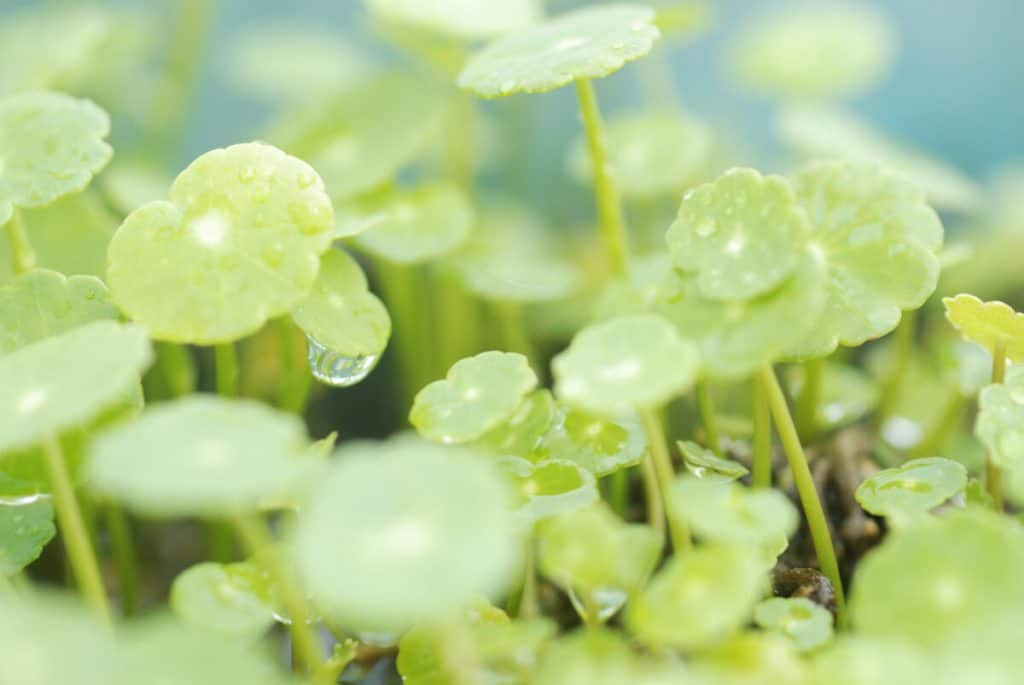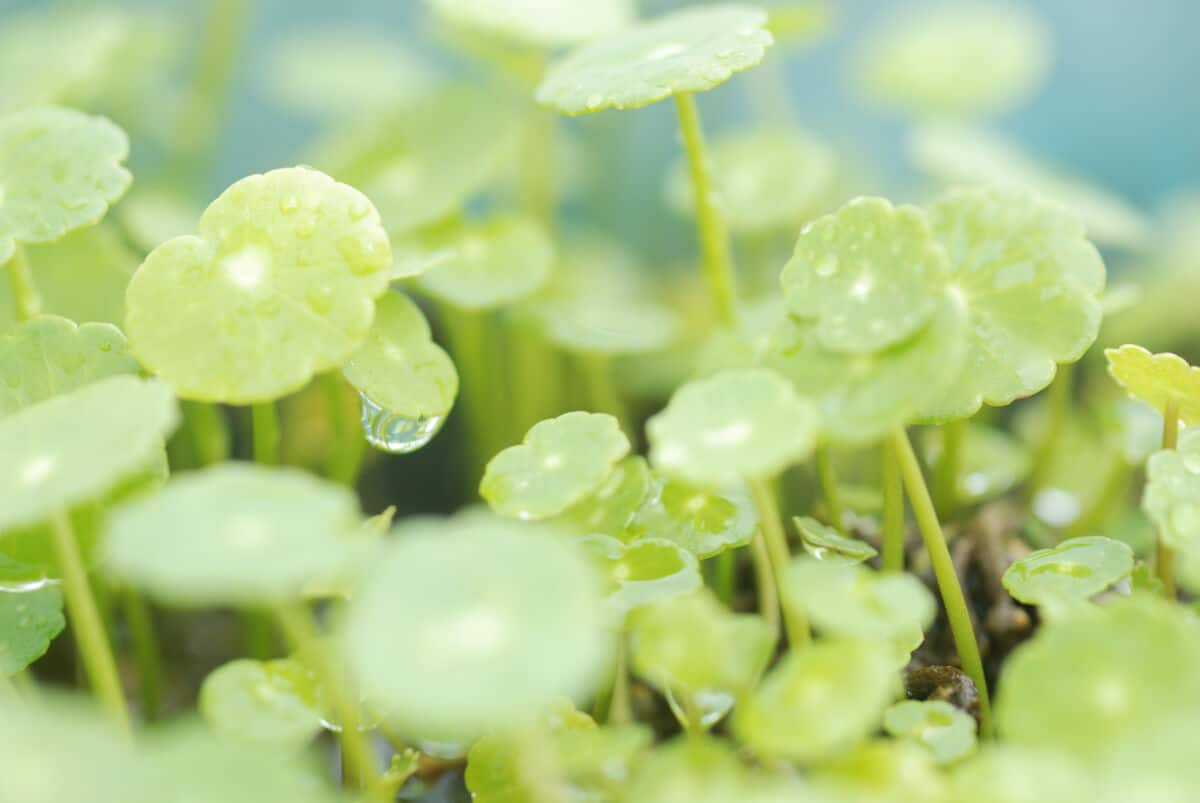 It's care needs fall toward the low-maintenance end of the scale. Algae, parasites, and disease are highly unlikely. There are only two key rules to follow when it comes to caring for this ornamental plant.
Firstly, thin it out when needed. How often you will have to do this depends on the size of your tank and how many plants you have.
Thinning can involve cutting the trailing roots off if they grow too long. Alternatively, you can remove entire plants from your aquarium if there are too many of them.
If you notice any brown, rotting leaves, you should prune them. Cut off the dying leaves at the stem and dispose of them.
The second rule of thumb for Amazon frogbit care is to avoid submerging it or otherwise wetting the surface of the leaves. Don't forget that too much moisture can cause the leaves to rot. You need to be extra careful when you change the water in your tank.
Don't panic if you spot curled leaves that are partially submerged. New leaves will unfurl and eventually flatten out to stay dry. Flattened, fully matured leaves should always be dry.
---
Buying Advice
You should know what to expect before you buy Amazon frogbit for your tank. Go through the tips below to learn how to choose healthy plants.
What to Look for
Health should be your number one priority when you're purchasing any aquatic plant. Look for foliage that appears bright green and smooth. If you notice decaying leaves or extremely short roots on a plant, avoid it.
Where to Buy Amazon Frogbit
As a popular aquarium plant, you will find frogbit for sale it at most specialty aquarium stores or pet stores. If this isn't the case for you, it can be found very easily and ordered from online.
If you go the online route, look for reputable manufacturers with lots of positive reviews. Ordering from the first place you find could end with plants that arrive sickly or dead.
Check that the manufacturer avoids shipping during extreme weather conditions. If temperatures are too high or low, it could die in transit.
How is it Sold?
It's usually bought as multiple plants at a time. They are sold in water as they have a short life expectancy outside of it.
On average, you can expect to pay approximately a dollar per plant. Depending on your tank setup, you could need three plants or, for bigger aquariums, 30 or more.
---
How to Plant it in Your Aquarium
Luckily, preparation and planting is a straightforward process.
All you have to do is remove them from the container they came in and place them in your tank. Be sure to place them away from your filter, so that the roots don't get sucked in.
If you have a small tank, you may want to section your Amazon frogbit off with wire. This will prevent roots from going where they shouldn't.
Don't heft all the plants out and put them in at once. You don't want to risk entangling the roots or drowning the leaves. You should place them gently, taking care not to wet the surface.
If you notice any leaves that are turning brown, pluck them off before planting.
Watch this video to see what Amazon frogbit plants in an aquarium should look like.
---
Tank Mates and Compatibility
Your aquarium is an ecosystem in a delicate balance. You want to ensure that your Amazon frogbit is compatible with all your current tank inhabitants.
Plants
Any plant that flourishes in low lighting will be a suitable tank-mate for Amazon frogbit. American waterweed is one such example. Mosses are also a good choice, since most of them can grow in dimly lit conditions.
Other plants that are good to share a tank include Anubias Nana, Vallisneria, and Sagittaria. Most of these species are low maintenance and beginner-friendly.
Plants that need a lot of light won't do well alongside Amazon frogbit. As it's a floating plant, a lot of the surface light entering your tank will be blocked out.
Amazon sword wouldn't be a good choice, for example. Despite sharing a similar name, Amazon sword plants need moderate to high lighting.
Adding a lot of other floating plants, like duckweed, isn't the best idea either. You don't want your Amazon frogbit and another floating plant to be in competition for resources.
Fish
Amazon frogbit is suitable for almost any species of freshwater fish if cared for correctly. As long as you don't allow it to overtake your tank, it's perfectly safe.
There are species of fish that can get stressed if they are exposed to too much light. Gouramis, clownfish, and betta fish are just a few examples. Many fish use plants in their natural habitats for various behaviors. Your fish can use Amazon frogbit for shelter, breeding, or even play.
If you have aggressive fish in your tank, you might want to avoid frogbit. This is less for the safety of your fish and more about protecting the plant. You don't want your fish ripping through the roots or otherwise harming your plant.
---
Amazon Frogbit Propagation and Reproduction
It is adept at reproducing on its own. It reproduces through division, both vegetative and seed. This gives it double the reproductive power.
Over the course of its lifetime, an Amazon frogbit is able to produce multiple seed pods. Each seed pod can hold between 20 and 30 seeds. These seeds germinate (grow) easily, and can stay viable for up to three years.
The vegetative method of reproduction involves the plant's roots. The tips of the roots can grow to develop new, juvenile plants. These grow from the parent plant, eventually repeating this reproductive cycle when they mature.
---
Interesting Facts
Much like algae blooms, Amazon frogbit can deprive bodies of water of oxygen, light, and nutrients, if allowed to grow untended.
These plants can form thick covers to the point that you can't even see the water below them.
Careless aquarium disposal has resulted in Amazon frogbit reaching places it shouldn't – it has traveled well beyond its native Central and South America.
It has been found in ponds, lakes, and irrigation canals in California. In Zimbabwe, it grows in abundance around dams in Harare.
Australia views it as a severe nuisance that should be reported to local weed management agencies to be destroyed.
Clearing water bodies of Amazon frogbit can be a challenge. Shredding or destroying the plants can propagate them even further by dispersing seeds.
There are no fish or other animals that are known to eat Amazon frogbit as biological control. So far, the only method of fighting invasions is to clear it chemically.
---
Conclusion
Amazon frogbit may be wreaking havoc on natural environments, but it's a great addition to an aquarium. One of the best aspects of this plant is that it isn't tedious to maintain. It is a great beginner plant for novice aquarium owners to cultivate.
Those of you with established aquariums with enough chores to do can appreciate this plant too. It will stay alive and reproduce with little to no effort needed on your part.
Except for thinning it out to avoid overgrowth, there isn't much to do when it comes to caring for amazon frogbit. An added bonus is that it can be added to almost any aquarium. It can be a boon to many freshwater fish as well as being one of the most popular aquarium low-light plants.
If you have any questions or comments about Amazon frogbit care, please do ask in the comment section below. We'd also love to hear about any care taking tips or other fun facts you may want to share.