In this article, you'll learn what features to look for in the best CO2 regulators, how to set one up, and which are, in our opinion, the best models on the market today.
Many factors contribute to a healthy aquarium ecosystem. Everything from the substrate you use to the plants you add can change the environment. Carbon dioxide is one of the elements that must be balanced in your tank.
CO2 refers to the chemical composition of the carbon dioxide molecule, which is two parts oxygen and 1 part carbon. Plants consume CO2 when they 'breathe,' and it's an essential part of any tank within which aquarium plants are growing.
If you find yourself ever wanting or needing to add additional CO2 to your tank – most typically in a planted tank – then a CO2 regulator is a crucial piece of the equipment required.
OK, so you probably have a few questions?
What does carbon dioxide have to do with an aquarium? Why do I have to regulate it? How does an aquarium CO2 regulator work?
We're here to answer all of your questions and more.
The Top Models Chosen for Our Aquarium CO2 Regulator Reviews
Please note: The above links take you to current prices, customer reviews and further information on Amazon.
Best Aquarium CO2 Regulator
Below, we have compiled a list of the current best CO2 regulators for fish tanks on the market today.
In these reviews, we cover features, specifications, and the pros and cons of each, so you should be able to determine which is the right one for your needs, and also exclude those that don't suit your particular set up.
1
S.T International Aquarium 2-Gauge Professional Co2 Regulator
♔ Top Pick
This dual-stage model is energy efficient and solidly built. It comes with all the necessities to slip right into your CO2 system: pressure gauges, relief valve, and solenoid valve.
One of the great aspects of the S.T. International CO2 regulator is versatility. It runs on universal voltage, which means it can work wherever you are in the world. You also have the choice of using disposable cartridges over the standard connector.
The pressure gauges are large and colorful, which makes checking the pressure a breeze. The design allows you to adjust the pressure without much hassle. You don't need to have expert coordination skills for these knobs.
The solenoid valve doesn't produce heat, making it energy efficient. You can schedule carbon dioxide output without wasting electricity. It also operates quietly, which is good for both you and your fish.
Finally, the sleek silver design is pleasant to look at, and S.T. International offers you a two-year warranty. Warranties are always a bonus when it comes to aquarium equipment!
Manufacturer Specs
Dimensions: 5 x 5 x 6 inches.
Weight: 1.2 pounds.
Two-year warranty.
Pressure gauges included.
Pressure relief valve included.
Solenoid valve included.
Universal voltage (110 volts and 220 volts)
Pros
Can be used with disposable cartridges.
The pressure gauge is user-friendly.
Operates quietly.
Compatible with any voltage.
Safety certification (CE & PSE).
Cons
No instructions included.
No light on the solenoid valve.
Few accessories included.
If you already have most of the equipment at home for an aquarium CO2 system, consider this model of regulator.
If you're curious to see it for yourself, follow this link:
2
Aquatek Co2 Regulator Mini
♔ Runner Up
The AQUATEK CO2 Regulator Mini will suit most aquarium owners. As the name suggests, it is compact and discreet.
If the thought of a large regulator looming over your tank dismays you, this product is an excellent choice.
Despite the small size, the pressure gauges are easy to to read, so this may be the best CO2 regulator if you're lacking space but still want a nice display.
One of the nice features of this regulator is that it comes with accessories included. The check valve is one indispensable item you'll be able to take off your list of things to buy. The bubble counter and solenoid valve are added perks.
As for the remainder of the setup, compatibility won't be an issue. The Aquatek will work with small cylinders, which are readily available. It also fits with the majority of high-density, carbon dioxide-friendly tubing.
Manufacturer Specs
Dimensions: 3.5 x 3 x 4.5 inches.
Weight: 1.05 pounds.
Pressure gauges included.
Pressure relief valve included.
Solenoid valve included.
Bubble counter with integrated check valve.
Universal voltage (110 volts and 220 volts)
Pros
Comes with bubble counter and check valve.
The solenoid valve has a light.
Easy-to-read pressure gauges.
Compatible with paintball (small) carbon dioxide cylinders.
Compact
Simple installation.
Cons
Small knobs are hard to adjust.
Accessories (solenoid, bubble counter, check valve) have been reported to encounter issues after a year.
This is possibly the best CO2 regulator for aquarium enthusiasts with smaller tanks. As a starter bit of kit, it can't be beaten.
To learn more about this model follow this link:
3
Red Sea Fish Pharm Arer51070 Aquarium Co2 Standard Pro System
Recommended
This system comes with nearly all the accessories you'll need to introduce carbon dioxide into your aquarium.
If you haven't bought anything yet, this product can jumpstart your carbon dioxide equipment setup.
Aside from the regulator, you'll also receive a bubble counter, check valve, reactor, and monitor. Three meters of tubing are included in the box too.
The Red Sea Fish Pharm system can be set up in aquariums ranging from 10 gallons to 125 gallons. If you have a small tank now and decide to upsize later, you'll be able to keep the same system.
The large knobs take the challenge out of adjusting flow and pressure. The pressure gauges are sizable and colored for good readability.
You can take comfort in the quality of design; the CO2 regulator and associated parts are built to last.
Manufacturer Specs
Dimensions: 15.2 x 13.7 x 3.9 inches.
Weight: One pound.
Includes pressure gauges.
Includes needle valve.
Includes CO2 monitor.
Includes bubble counter with check valve.
Includes a reactor.
Includes three meters of tubing.
Pros
Almost everything you need is in the box.
Comes with instruction manual.
Appropriate for almost any size fish tank.
Durable
Cons
Only works with paintball cylinders.
No solenoid valve included.
If you want an all-inclusive package, this product will suit you. You'll get the bulk of your CO2 regulator setup with one purchase. For more information, check out this link:
4
Doublesun Aquarium CO2 Regulator
Recommended
This miniature regulator has a lot of accessories included. The only items you'll have to get on your own are a cylinder and a diffuser.
The included bubble counter, check valve, and solenoid valve are just the start. You also get a wrench and an extra washer.
The wrench is a unique addition that can be used for more than just your CO2 regulator. What's not to like about a free tool?
Compatibility-wise, this regulator works with any cylinder size and most tubing. The solenoid valve that comes with it runs in near silence. No buzzing, humming, or other irritating noises.
Although small, the knob to regulate pressure turns smoothly—you won't find yourself struggling with it. The pressure gauges will give you a precise readout. You can trust the readings to know exactly when it's time to change your cylinders, for example.
Steadiness is another beneficial feature of the DoubleSun. Fluctuations in pressure are virtually nonexistent.
Manufacturer Specs
Dimensions: 4 x 6 x 3.2 inches.
Weight: 1.5 pounds.
Includes pressure gauges.
Includes bubble counter with check valve.
Includes solenoid valve.
Includes wrench.
Includes extra washer.
110 volts.
Pros
Lots of accessories in the box.
Smooth-turning knobs for pressure adjustment.
Solenoid valve runs quietly.
Small and discrete.
Works with small and large cylinders.
Cons
The solenoid valve can get hot.
Small pressure regulators are hard to read.
No instruction manual.
This gold-colored CO2 regulator is perfect if you value reliability and accessories. Plus, the manufacturer isn't stingy with the extras. If you're eager to learn more, click the link below:
5
MANATEE CO2 Regulator System With Solenoid Valve
♔ Best Value
WARNING! This particular model isn't specifically made for CO2 aquarium systems, it is marketed for use in indoor gardens.
Still, you can safely use it for your aquarium if you take basic precautions. But therefore: Do not use this model unless you really know what you are doing.
The pressure gauges are built to read higher pressure levels for spaces with plants. For your aquarium, the pressure will stay fairly low: this is normal.
Note that it's recommended to purchase a bubble counter for this regulator. As it is more powerful than aquarium-specific regulators, it will help you supervise the flow in real-time.
With the aid of an adapter, you can hook this regulator up to small as well as large cylinders. This flexibility makes it ideal for aquariums of all sizes.
This precision regulator makes controlling carbon dioxide levels effortless. It is very sensitive, enabling ultra-precise adjustments.
You'll also get an abundance of tubing included. As this is something you normally have to buy separately, this is a great bonus. A solenoid valve is also included so you can put your system on a timer.
Manufacturer Specs
Dimensions: 9.1 x 6.8 x 6.1 inches
Weight: 2.85 pounds
Precision regulator included.
Solenoid valve included.
Tubes included.
110 volts.
Pros
Compatible with small and large cylinders.
Regulator valve can be controlled with precision.
Suitable for large aquariums.
Comes with extra tubing.
Quick setup.
Cons
Not aquarium-specific.
Can take time to adjust pressure.
Solenoid buzzes and can heat up over time.
If you're looking for a CO2 regulator that's precise and simple to set up, the MANATEE will meet your needs.
To find out more about it, click this link:
What to Look for When Buying a CO2 Regulator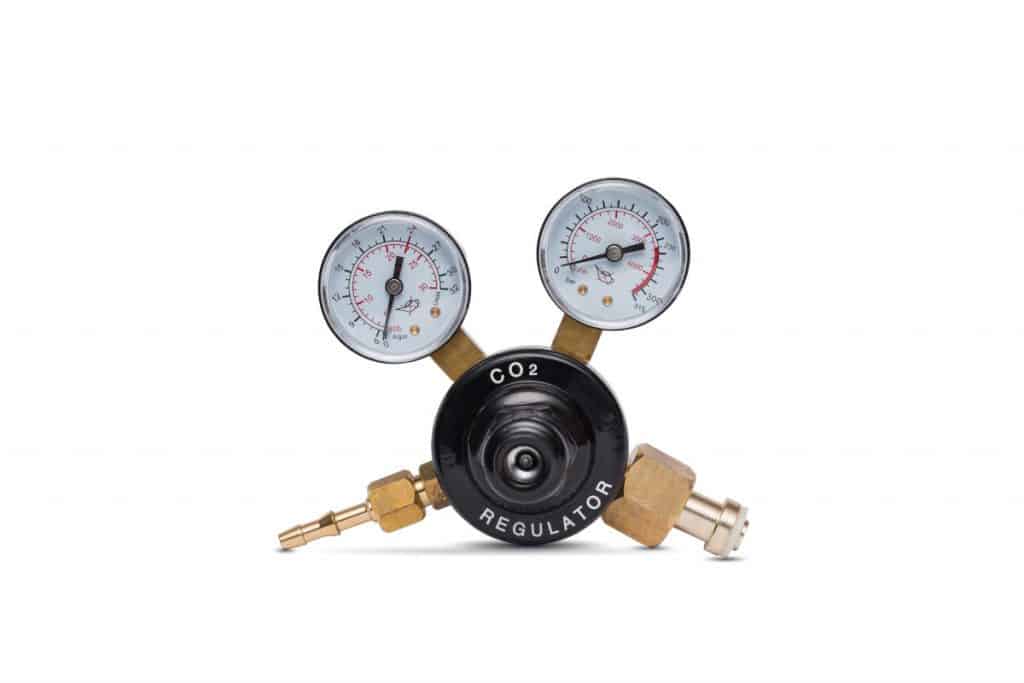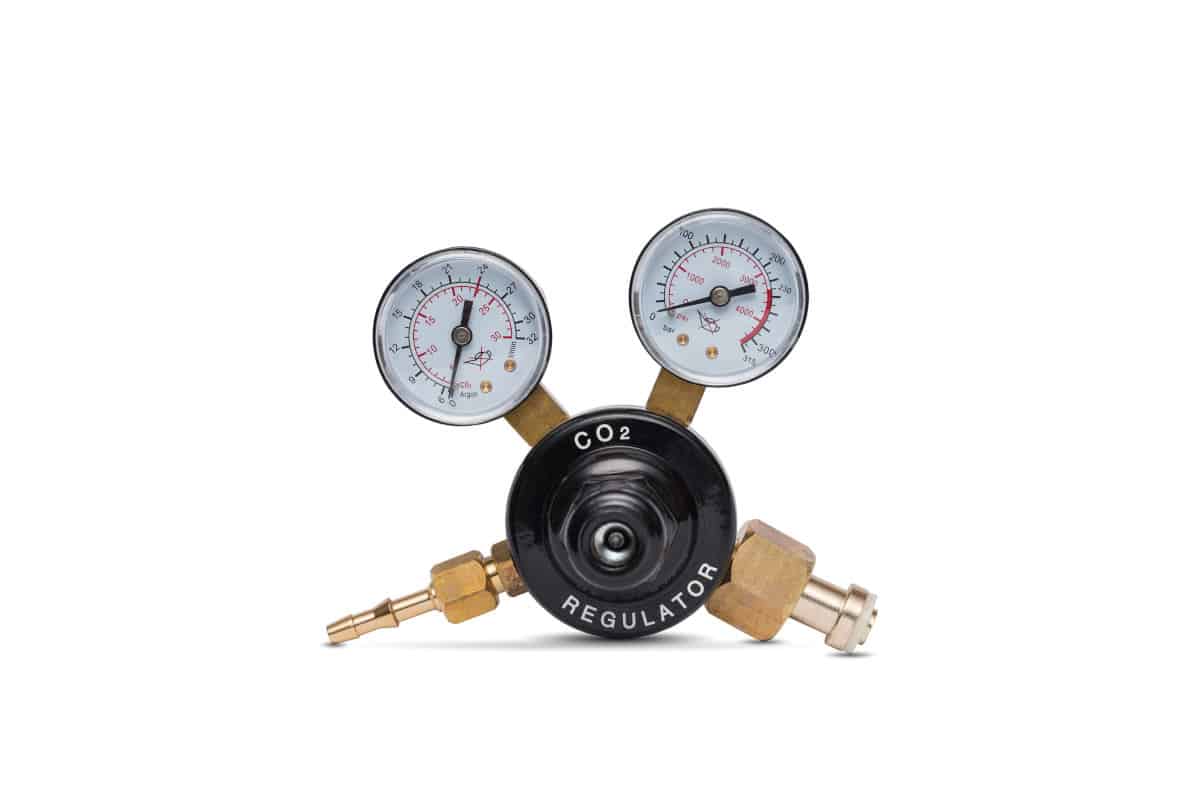 Now you know why managing the carbon dioxide is important, how should you go about choosing the best aquarium CO2 regulator that's right for you?
Buying one should involve careful consideration. You shouldn't go out and buy the first one you find online or at your local pet shop.
Compatibility
As mentioned before, the CO2 regulator is only one part of the CO2 system. You have to make sure your carbon dioxide cylinder of choice is compatible with the model of regulator you buy.