If you need some assistance finding the best aquarium heater, you're in luck. We've done extensive research to find the best of the best and compiled it into an easy-to-digest guide.
You've got the tank and the filter, you know what fish are going to live in it, now you need an aquarium heater.
Whether you're setting up a new tank or replacing an old, worn out heater, choosing the right one is essential.
However, with so many choices on the market, it can be tough to decide which are worth splashing out on and which would be better off relegated to the bottom of the ocean.
So, read on to find the best model for you.
The Top Models Chosen for Our Best Aquarium Heater Reviews
Please note: The above links take you to current prices, customer reviews and further information on Amazon.
Best Aquarium Heater – Our Top 9 Recommendations
Let's get down to business and check out the top models available today, before we move on to looking at the features and specs you should weigh up, and how to pick the right one for you
These are our top nine recommendations for the best aquarium heaters, listed in no particular order.
Fully submersible, easy to use and reasonably priced—it's no surprise that the Aqueon Pro is one of the most popular options on the market.
It's extremely easy to use and set up, and can be orientated either horizontally or vertically, to meet your needs. It comes in five different wattages to suit different tank sizes.
This slimline filter looks sleek and sturdy. It's not going to take up much room in your tank or look like an eyesore. Its durable plastic construction should last you for years to come.
This is an excellent choice for a beginner aquarist or someone who simply wants a simple heater.
However, since the temperature can be a couple of degrees higher or lower than the number you set it to, it's only suitable for fish who can tolerate a wider range of temperatures.
Features and Specs
USA-made
Weighs just under 10 ounces
Adjustable between 68 and 88°F
Accurate to +/- 1°
Auto shutoff
Pros
Comes with a (limited) lifetime warranty
Non-corrosive shell is durable and helps with even heat distribution
Easy to set and change temperature using dial
Handy LED indicator light
Cons
Some buyers stated this heater stopped working after a short amount of time
The temperature may not be completely accurate, so use a thermometer to double check
2
EHEIM Jager Aquarium Thermostat Heater
♔ Runner Up
Available in a range of wattages from 25 to 300 watts, you'll be able to find an EHEIM Jager for you, as long as your tanks don't exceed around 100 gallons.
Though not the cheapest option on the market, we think it provides exceptionally good value for money, considering the quality.
This is a sleek and simple looking, fully submersible aquarium heater that appears to be well-constructed. Although made from glass, it's shock- and shatter-proof for the safety of your fish.
We recommend the EHEIM highly, as it's well made, shatter-proof, and accurate—all you need from an aquarium heater.
Features and Specs
Can be set to any temperature between 65° and 93°F
Accuracy of +/- 0.5°C
Thermo safety control
Simple recalibration
Pros
More accurate than most competitors
You can recalibrate it yourself if it starts to lose accuracy
Switches off automatically if you take it out of the tank to avoid damage
Cons
Those with higher wattages are quite large
Can be hard to adjust
3
Fluval E Electronic Heater
♔ Great Value
Coming from a respected manufacturer of aquatic goods, we'd expect a lot from the Fluval E, and it delivers—for the most part.
While some buyers report issues with reliability and accuracy, it's likely these are just a handful of faulty models, as the majority of long-term users rave over this model.
With a thick plastic casing, this submersible aquarium thermometer looks extremely robust at first glance.
It has a slim profile and comes with a mounting bracket to easily secure in inside your tank. The screen appears easy to read and the color-changing technology lets you easily monitor the water temperature.
This versatile heater is suitable for most tanks, although may not be powerful enough for very large aquariums.
The Fluval E is quite pricey compared to some other submersible aquarium heaters, and it doesn't seem to be all that uncommon to get a faulty model, but if yours is in full working order, it will do an excellent job maintaining steady water temperature.
Features and Specs
Available in 100-, 200-, and 300-watt models
LCD display in both Fahrenheit and Centigrade
Temperature range of 68°F to 93°F
Integrated fish guard
Pros
LCD screen turns red if the water's too hot and blue if it's too cold
Can set temperature in increments of 0.5°C
Advanced microprocessor and two temperature sensors give accurate temperature readings in real time
Cons
Not the cheapest option
Can take a long time to heat water
4
Hydor In-Line Aquarium Heater
Recommended
If you're looking for an in-line heater to add to an in-line filter or sump system, the 'Hydor In-Line' is well worth your consideration.
You can select from one of two 200-watt models, one for use with 5/8-inch hoses and the other for use with 1/2-inch hoses, and one 300-watt model that fits 5/8-inch hoses.
Made from solid black plastic, this in-line filter appears solid and well made. The dial for adjusting the temperature is easy to access.
Although it's not cheap, the Hydor isn't exceptionally expensive for an in-line filter, and it seems to be excellent at controlling water temperature, which is exactly what you want from an aquarium heater.
Features and Specs
Self-limiting PTC heating element
200-watt models suitable for 26- to 53-gallon tanks
300-watt models suitable for 53- to 80- gallon tanks
Fits on the return line of a canister filter or sump
Pros
Accurate temperature control
Simple to use
Lives outside the tank so reduces clutter inside
Cons
Makes an occasional clicking noise, which could be annoying
Doesn't fit all tubing
5
Cobalt Aquatics Neo-Therm Heater
Recommended
Don't be put off by the price tag, which is slightly higher than that of many alternative submersible models, because the Cobalt Aquatics Neo-Therm Heater is an excellent investment.
With easy-to-set temperature controls and the ability to simultaneously display the set temperature and the tank temperature, this is up there with some of the best.
Looking at its durable plastic casing, it's clear that this is a sturdy, rugged option that it very unlikely to break in your tank. At only 1/3-inch deep, it's also a very slim and unobtrusive design.
While it's working, the NEO-Therm is one of the best aquarium heaters out there, it's just a shame that some units don't stand the test of time. That said, no piece of electrical equipment is infalliable, so we wouldn't let this put us off.
Features and Specs
Accurate to +/-0.5ºF
Shatterproof casing
"One touch" control system
Temperature range between 66ºF and 96ºF
Pros
The shatterproof casing is virtually indestructible
Accurate to half a degree and seems to heat water to the desired temperature reliably
Slimline design won't take up much room in your tank
Cons
Some users report failures after one to two years
Can be too long for some tanks
6
Finnex Heater With Electronic Controller
Recommended
This immersible model features a probe-style heating element that sits inside your tank with an electronic controller that remains on dry land.
With six different wattages available, from 50 watts up to 500 watts, you can find an option to suit all but the largest tanks.
At first glance, the Finnex looks sleek and durable. The included plastic casing is designed to protect fish from getting burned on it, and looks as though it will do the job well.
While this is a decent immersible option, we are somewhat concerned about the issues with accuracy, as the water temperature can be two to four degrees lower than what you set the thermostat to.
If you choose this heater, make sure you have an accurate thermometer to check the true water temperature.
Features and Specs
Corrosion-resistant, for freshwater and saltwater tanks
Accurate to +/-2ºF
LED-indicator to show it's working
For temperatures between 70ºF and 92ºF
Pros
Easy-to-use controls
Comes with hook to fix the controller in place and suction cups for the heating element
The controller sits outside the tank, which is more convenient when you need to adjust the temperature
Cons
The thermostat isn't always accurate.
The wire to the controller can look untidy.
7
Hydor Submersible Glass Aquarium Heater
Recommended
If you're looking for an inexpensive submersible aquarium heater, this model from Hydor should be on your shortlist. While it does have mixed reviews, those users that love it have found it accurate and consistent.
Although made of glass, the Hydor Submersible appears sturdy. Fairly compact and streamlined, it won't be an eyesore in your aquarium.
We love how durable the Hydor is, and it's very reasonably priced, too. However, due to the mixed reviews, you're taking a bit of a gamble as to whether your heater will be accurate or inaccurate.
Features and Specs
Shock-resistant
PTC technology stops damage when running dry
25-watt to 200-watt options available
The range between 67ºF and 91ºF
Pros
Can be orientated either horizontally or vertically
Made from shatterproof glass
Dial controls are simple to set
Cons
A fair amount of users have found it to be inaccurate—less than the amount that says it's accurate, but still enough to cause concern
8
Tetra HT Submersible Aquarium Heater With Electronic Thermostat
Recommended
Available in 50- and 100-watt sizes the Tetra HT Submersible Aquarium Heater is suitable for smaller tanks—between 2 and 10 gallons for the 50-watt model, and between 10 and 30 gallons for the 100-watt option.
It only heats the water to 78°F, however, so it's unsuitable for fish that need higher or lower temperatures.
The Tetra HT is compact and looks to have a rugged design, making it a durable addition to your home aquarium.
If you want a heater that requires nothing more of you than fixing it inside your tank and plugging it in, this might be the option for you. It's a great budget choice, too.
Features and Specs
Static temperature of 78°F
Auto shut-off feature
LED indicator shows when it's heating and on standby
Pros
Extremely simple to use
Has a small footprint
Automatically set to a temperature suitable for most tropical fish
Cons
No option to control the temperature
Can overheat, so use a thermometer to keep an eye on the water temperature
9
Aquatop Analog Glass Submersible Heater
Recommended
This simple 50-watt submersible heater is suitable for tanks of up to 13 gallons. It's more basic than some of the other options we've reviewed, but it's an excellent choice for fish keepers on a budget.
The Aquatop is fairly compact and won't take up a lot of room in your tank. It doesn't look quite as well-built as more costly alternatives, however.
This might not be the most high-tech product out there, nor does it come from a big name in aquarium supplies, but it's functional, if not 100 percent reliable.
Features and Specs
Temperature range between 68°F and 93°F
Over-wind protection
Double insulation
Fully submersible
Pros
Suitable for both freshwater and saltwater aquariums
Easy to use
Comes with suction cups and can be used vertically or horizontally
Cons
The temperature dial can be hard to turn
Water temperature often lower than what's set on the dial
Why Might You Need an Aquarium Heater?
A big part of fish keeping is trying to replicate their natural environment, at least to the extent you can do so in a home aquarium.
Apart from a few popular coldwater fish, such as goldfish, most of the aquatic critters people keep in aquariums come from tropical water. As such, you'll need an aquarium heater to keep the water in their tank at the right temperature.
Even with cold water fish, you may find you need one in cold climates to stop the water temperature dipping too low when the ambient temperature drops.
A good heater will keep the water in your tank at a constant temperature, which will help your fish stay healthy. Fish can die if their water is too cold or if there's a sudden change in temperature, so they're a must-have for tropical aquariums.
Types of Aquarium Heater
Before picking one out, you'll need to decide which type is right for you. Here are the options you can choose from.
Submersible
As the name suggests, submersible aquarium heaters go right in your tank, submerged under the water. Since they're placed in the water, they're incredibly efficient.
Also, it's easy to put them almost anywhere you want in the tank, although you should leave some room around them so your fish can't get stuck between the heater and the glass or gravel.
Immersible
Immersible aquarium heaters feature one part that hangs over the back of the aquarium and a separate heating element that goes right in the water.
These models are common and inexpensive, but they aren't the most advanced type available.
If the glass sheath around the heating element breaks, it could electrocute your fish, so you have to be gentle with them.
In-line
In-line types are kept entirely external to your tank, as part of an in-line system, with a sump or a filter.
These types of systems are relatively complex and can be expensive, so they're generally used by more experienced fish keepers and in larger tanks. But, if you already have an in-line filter or sump, it makes sense to use an in-line heater.
The benefit of these living outside of the aquarium means there's no risk of electrocution and they don't take up any space in your tank.
In-sump
In-sump heaters are similar to in-line varieties, but the heater is part of the sump, rather than separate to it. These types have the same positive points as in-line models but are often easier to maintain.
In-filter
Some aquarium filters come with built-in heaters. While this is convenient, they're not always as effective or easy to control as separate models. You can find some decent models out there, however, so they're still a reasonable option to consider.
Substrate
Although not a hugely common option in the United States, substrate heaters are common in Europe and somewhat effective.
They consist of a heating element that sits under the substrate, which keeps them out of the way, so they're not taking up room or posing any danger to your fish. Because they live right under the gravel, they're easier to set up in new tanks, rather than already established ones.
How to Choose the Right Heater for Your Tank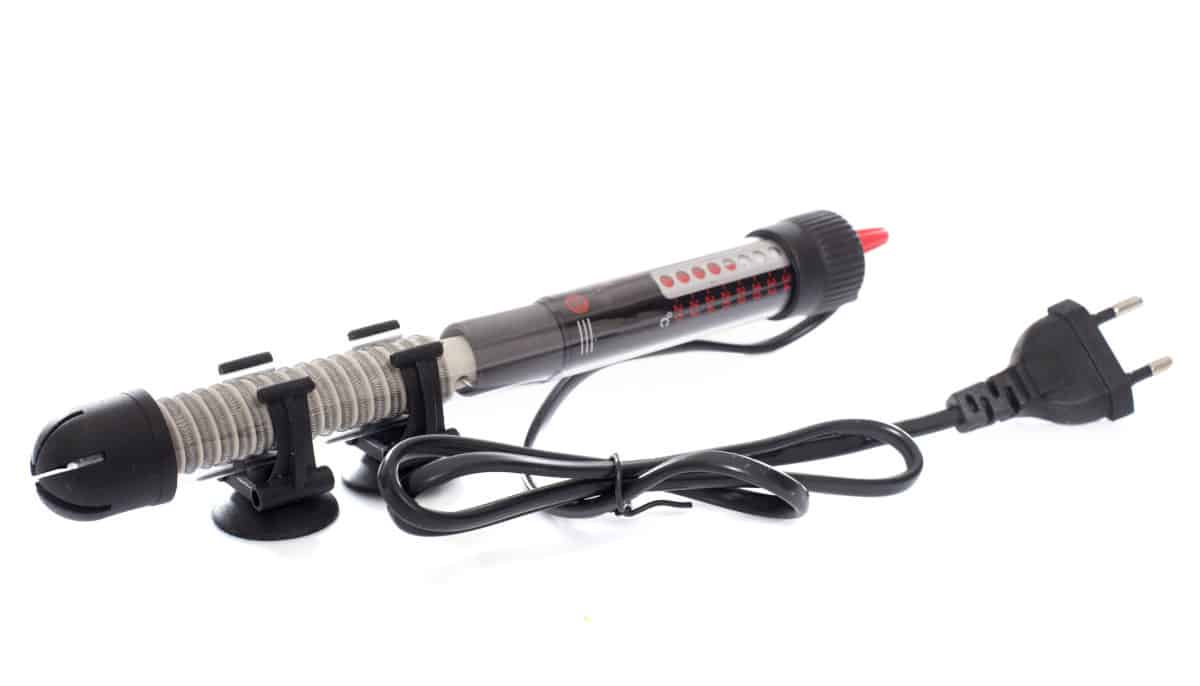 Now you know about the different types available, you'll need to decide which one is best for your aquarium.
Consider the following factors to help you choose the right type and model for your tank.
The Size of Your Tank
Before you head off to buy an aquarium heater, you need to know the capacity of your tank in gallons.
Luckily, manufacturers list the size of tank they're suitable for on the package, which takes out the guesswork—as long as you know your tank's capacity.
If your heater is too powerful for your tank, it can make the water too hot, and if it's not powerful enough, it will be unable to reach and maintain the target temperature you set, leaving it too cold.
Heater Wattage
Although aquarium heaters should list the size of tank they're suitable for, it doesn't hurt to double check the wattage.
In general, it should provide 3 to 5 watts per gallon of water it needs to heat. So, a 30-gallon tank requires a 90- to 150-watt output.
The Type of Your Aquarium
Although some aquarium heaters are multi-functional, not all models are suitable for all types of tanks. For instance, some are fine for all freshwater tanks but not safe for use in saltwater aquariums.
Always double check that your chosen model is suitable for the type of tank you have.
Static or Variable Temperature?
Static aquarium heaters heat the water to just one temperature, usually a standard temperature that's suitable for most tropical fish, whereas adjustable temperature models let you adjust the exact temperature you heat your water to.
Although static types are simple, they are very limiting, and a terrible idea if your fish require water that's slightly warmer than average or cooler than average.
Although static models can work okay for small tanks, we'd generally recommend a variable option.
Ease of Use
Setting your aquarium thermometer shouldn't feel like you're trying to program a Mars rover.
Controls should be easy to access and use, plus the temperature should be easy to read, so you don't accidentally set it too high or too low.
Safety Features
Electricity and water don't usually mix, so a good aquarium heater should have a range of safety features to ensure no harm comes to your fish. There should be an auto shutoff feature that will automatically cut power if a fault occurs, which should prevent fires or electric shock.
You should also expect an aquarium heater to have quality temperature sensors, which will prevent the water from becoming too hot or too hold.
Models that have their heating elements inside the tank should have appropriate insulation so that fish won't get burned if they brush up against them.
Durability
Look for an aquarium heater that's shockproof and shatterproof, especially is the heating element will be submerged in the tank.
If your chosen model is too fragile, it could break from a bump or fall, which could potentially kill your fish, so durability is paramount.
Price
You can find aquarium heaters for as little as $10 or as much as $100. Your budget will dictate the quality of the model you choose to some extent, but you can find decent models at a range of price points, if you do your research.
For a basic mid-sized aquarium, you shouldn't have to spend a fortune.
Aquarium Heater FAQ
A few commonly asked questions on aquarium heaters, to which we will add to as time goes by:
Where to Place an Aquarium Heater
Aquarium heaters are normally installed at the back of the tank where they are least conspicuous. If you are using a single heater in your aquarium, place it as close as possible to where the filtered water flows in. This will heat the water and disperse it in the most efficient manner and prevent a cold spot from forming by the inflow.
For large tanks, place a second heater at the opposite end of the tank for uniform heat. If you have more than 2 heaters, space them out evenly along the back of the tank.
You can learn even more about placing your heaters at this link: https://www.thesprucepets.com/aquarium-heater-placement-1381038
How Many Watts Does My Aquarium Heater Need to Be
The power, or wattage, of your aquarium heater should be based on the capacity of the tank.
On average, a tank needs 3-5 watts for every gallon of water. If, for example, you have a 75-gallon tank you'll need between 225 and 375 watts. For large tanks, it is advisable to divide that number in half and purchase two separate heaters to share the job and heat the water evenly.
Do Aquarium Heaters Turn Off Automatically
Yes. Once an aquarium heater is turned on (which should only happen when it's underwater), it will stay on until the water reaches the preset temperature. It will stay off until the water cools down below that temperature, at which point it will come back on. It's just like using a furnace thermostat.
How Long Does it Take to Heat a Fish Tank
Many factors affect the length of time it takes to bring a fish tank up to temperature. These include the volume of the tank, the wattage of the heaters, the starting temperature, the flow of the water, and the conditions in the room. For a new set up it may take a full day to hit your target temperature.
How to Tell if Aquarium Heater is Broken
If your aquarium heater is not coming on, even though your thermometer says it's too cool in the tank, it might be broken. It's also possible it just isn't calibrated properly. Try turning the heater up a couple of degrees and see if it starts warming the water. Most models have an indicator light that comes on when they're running, so watch for that.
Can Fish Die if the Water is Too Warm
Yes. Most fish can survive comfortably within a particular temperature range. However, if that range is exceeded by too much or for too long, it can be fatal for them. Fish are cold-blooded and cannot regulate their own body temperature. Overheated fish will become hyperactive and stressed. In the short term, stress may lead to disease. Left too long, hyperactive fish will deplete the water of oxygen and suffocate.
You can read more about this important topic right here: https://fishlab.com/aquarium-temperature/
Conclusion
Picking the best aquarium heater rightly deserves careful thought and consideration, as your fishes life can depend on it.
You want reliability, and ease of use, to enjoy peace of mind that you've got this part of aquarium care nailed down and correct.
Any of the models above will be sufficient for any aquariums needs, so long as you match the power output to the size of your tank.
We are be happy to recommend any of the models listed above and all that's left to consider really is your budget.